A new artwork by Eileen Haring Woods
with Deborah Jaffé and Bill Jackson
Aldeburgh Beach Lookout, Aldeburgh IP15 5BS, Suffolk
15 – 21 August 2016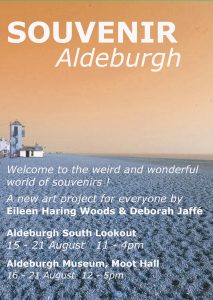 SOUVENIR, Aldeburgh, is a new artwork about objects as memory/memory as objects. For the artwork to succeed, the artists will connect with the town's diverse residents, local businesses and international visitors, all of whom contribute to the commerce, culture and community that defines Aldeburgh.
Souvenirs are: a pebble; a leaf; a divine piece of kitsch; or a mass produced novelty item linked only to a place by the inclusion of its name, an inappropriate or comical representation of it, or a handcrafted artwork sensitively commemorating the experience of being there. These are all definitions of souvenirs. From prehistoric times to ancient civilizations; from pilgrim journeys to international holidays; the temptation to acquire and collect souvenirs as objects of memory has remained strong and evolved into a massive industry. These 'must have' objects of memories of 'there and then' become prize displays in glass fronted cabinets, are relegated to the back of the cupboard, or off loaded at car boot sales.
Eileen Haring Woods' previous work in the Lookout, includes Fear, Greed and Sex; Unique in the Universe; and Self Portrait: Yours and Mine. As an artist and curator her work centres around engaging with people to provoke their responses to questions on contemporary social issues, to produce installations, films and photographs.
The weird and wonderful world of souvenirs as objects of memory and place has long been of interest to her. She has connected with Deborah Jaffé, an avid collector and expert on the cultural history and production of souvenirs, with a particular passion for seaside souvenirs. Deborah is co-curating the displays and will be showing her own ceramic works made in response to her particular passion for the seaside souvenirs in her collection. Bill Jackson, photographer and a co-collector,  is working with them to  make this a memorable theatrical experience.  More on Deborah's eclectic collection here.
Watch the souvenirs film of some of the weird and wonderful souvenirs,  and shown in the Lookout.
We are grateful to Caroline Wiseman for once again providing the Aldeburgh Beach Lookout to experiment and make new work. We are especially pleased to be working with the team at The Aldeburgh Museum at Moot Hall, which will host its own historic collection of Aldeburgh souvenirs.