Deborah has years of experience in the field of children's play and is a firm believer that play, in its widest manifestations is crucial for all children's development. She is interested in all aspects of the history of and attitudes to childhood and children's playthings.
Recently, she has become interested in the ways in which childhood experience – a toy, book or activity – have had profound effects on choices people make in their adult lives.
Having trained as designer of toys and play equipment, she has worked for the Toy Libraries Association, coordinated adventure playgrounds for children with disabilities and undertaken research into how architects design for children's play needs. She is constantly fascinated by the similarities in, as well as changes to, play activities and their material culture as they pass from generation to generation. The role of iconographies, design and materials in the manufacture of children's toys and play equipment are of particular interest. Recent debates about toys that are gender specific are another area of interest.
In The History of Toys, published in 2006, she traces the long history of toys and reflects changing attitudes to childhood as well as the influences of technology and the invention of new materials on the manufacture of toys. It explores the various influences on toys from politics and marketing to religion and education combines Deborah's long-term interest in the history of childhood and play with her knowledge of technology and manufacturing. She lectures on the entrepreneurial Frank Hornby, inventor of Mecccano, the Hornby Train Set and Dinky cars, placing him within the cultural and political contexts of the first part of the 20th century.
Deborah was a member of the committee of the V&A Museum of Childhood and the steering committee of the National Art & Design Saturday Club at The Sorrell Foundation. She appeared on the BBC2 program The Toys that Made Christmas, broadcast during Christmas 2011.
Deborah lectures on various aspects of childhood, play and toys include: The History of Toys; Adventure or Assault Course, based on her original research; and Frank Hornby and Meccano.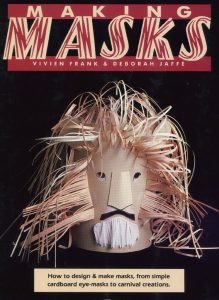 In the 1990s Deborah co-authored three 'kit books' for children – two on mask making and one on making books.
Another book, The Best of Britain for Children, was co-authored with Sue McAlpine and for parents, in an era before websites, gave information on unusual and interesting places to take children.
Find out more about these books here.