Souvenirs are often overlooked and dismissed as irrelevant pieces of ephemera but they are vital and tangible reminders of specific memories.
As an expert on historical souvenirs and our needs to record our memories through objects, Deborah has an extensive collection of  ceramic  souvenirs from the 1880s onwards. Before the availability of cheap cameras the images on these souvenirs were all that people had to remind them of a specific place. They are also question the aesthetics of design and kitsch as well as being evidence of a thriving manufacturing industry.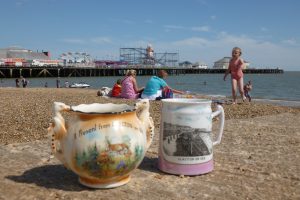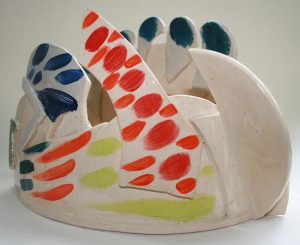 Deborah takes the souvenirs back to the places depicted in their imagery, makes an installation and then, in the studio,  ceramic pieces are made in response.
From 15-21 August, 2016,  Deborah  exhibited some of them and part of her souvenir collection in anartwork devised by Eileen Haring Woods with Bill Jackson in SOUVENIR, Aldeburgh: Memory as Object
She is currently working on The Shoreline Series:  The power of an object to illicit a memory intrigues me. Each one of the souvenirs in my collection, some dating back to the 1880s, has been an object of memory for somebody. I photograph them in the places they denote, then back in the studio make my interpretation. The series of ceramic pieces I make are my memories of shorelines. They might be the fleeting shapes made by waves slapping the shore, part of the Broken Memories Series,  or of the rocks that have been moulded by the sea – the Shoreline Series. Each one is different and is a fleeting memory of place.
See more about Deborah"s ceramics here
Between 2012 and 16 she was a member of the Steering Committee of the Centre for Cultural Memory Studies at the IGRS, University of London.